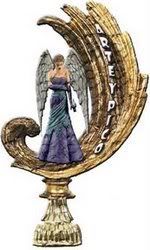 Aw...Lora from
Lora's Journal
gave my blog the
Arte Y Pico Award
because she enjoys reading my blog everyday! Thanks Lora!
So I am going to pass on this award to five bloggers that I find creative, informative and fun to read everyday:
Melissa at
Your Fun Family Blog
Megan at
Casto Creations
Vicky at
Samples 'N Such
Liza at
Mommy's Little Corner
Natalie at
Red Sox Mommy
Here are the rules:
1. Pick five (5) blogs that you consider deserve this award for their creativity, design, interesting material, and also for contributing to the blogging community, no matter what language.
2. Each award has to have the name of the author and also a link to his or her blog to be visited by everyone.
3. Each award winner has to show the award and put the name and link to the blog that has given her or him the award itself.
4. Award-winner and the one who has given the prize have to show the link of "Arte y Pico" blog, so everyone will know the origin of this award.